---
Ben Martin: PGA Director of Golf and General Manager
"I believe Castlewoods Country Club has the potential to be one of the best clubs in the state of Mississippi. It is my goal to realize that potential during my tenure at the club."
Ben is both excited and truly honored for the opportunity to serve as Castlewoods Head Golf Professional and General Manager moving forward. Ben has most recently served three years at Annandale Golf Club as their PGA Assistant Golf Professional.
Ben always welcomes and encourages input from members on ways to improve and enhance the membership.
Ben is also actively looking to grow the Castlewoods junior golf program, as he understands it is beneficial to both the club and the community. Ben is passionate that growing the game of golf is at the heart of what being a PGA professional is all about.
Ben is married to Amanda Martin, and the couple have two boys, Grayden and Hayes.
---
Mark Elliott: Director of Tennis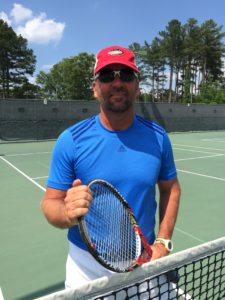 Mark began playing tennis at the age of 7 in Gautier, MS, and has come to be recognized as one of the top teaching professionals in the South. Mark was was a 2-time 4A/5A state singles champion for Brandon High School & helped lead them to the school's only team title in 1988. He held the states #1 ranking in the boys 18-under division in 1988.
Mark began his coaching career as a high school student under Barney Chadwick at Parham Bridges Tennis Center. In 1990, Mark taught at Amherst College for legendary coach Reiny Maier. From a competitive standpoint, Mark was named All-Gulf South Conference player in each year he played for #7 Nationally ranked Jacksonville State University. He received a Bachelor of Science degree in Business Management from Jacksonville State University in 1993.
His full-time coaching career began in Atlanta in 1993 where he was mentored by NCAA All-American Jay Bailey & Mississippi State University Hall of Famer Hugh Thomson. While in Atlanta, Mark coached adult & junior players, ranging from beginners, to adults who competed and won city titles to juniors who competed & received numerous tennis scholarships to various schools, Represented & played on Mississippi's first Junior Davis/Fed Cup team in 1995 (Now known as Southern Junior Cup).
During this period, Mark held a top 10 singles ranking in Georgia & the #1 doubles ranking with Southern Hall of Famer Hugh Thompson in 1996.
Mark coached the Southern Junior Cup for "Team Mississippi" with Walker Sahag in 2006 and he was also a member of Mississippi's Senior Cup Team in 2010.
More recently, Mark has been an integral part of the growth of tennis in Rankin County. He has coached players of all ages and levels of the game from traveling with touring Pro Courtenay Chapman Middleton, to working with Clemson standout Kerry Wong, to NCAA champion and ATP pro Devin Britton. Mark has continuously enjoyed promoting the game at a grass roots level, where several of his teams have captured local, state, & sectional titles. He has helped grow the youth tennis in Rankin county & has seen it rise to become one of the largest & fastest growing counties represented in the MTA division.
Mark continues to not only coach & promote the game, but he still enjoys playing in the USTA leagues & tournaments that have always been a part of his youth and adult tennis life.
Member of USPTA since 1995
---
Treston DeLong: Executive Chef
Treston DeLong has a knack for bringing culinary flair to Castlewoods Country Club. Chef DeLong graduated from Culinary School in 1998 and has worked at several establishment around the Jackson area. Most recently, Chef DeLong was Executive Chef at The Jackson Convention Complex. His arrival has signaled a new era of dining and entertainment at Castlewoods. From a mouthwatering new menu at The Bradford Restaurant and Bar, to special events such as craft beer/wine tastings and Chef's Pairings, Chef DeLong has ensured Castlewoods is a true dining destination.
---
Jay Coulter: Course Superintendent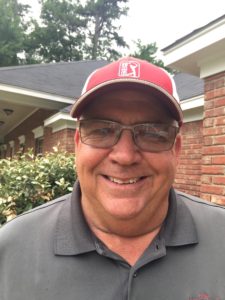 Jay Coalter is on his second tour at Castlewoods, as he spent his early days in the business at the club under Stanly Reedy, back in the late 80s and early 90s. This course and its members mean a great deal to Jay and his family, and it shows are he oversees a renovation and upgrade of the grounds.
Jay's initial work being back at Castlewoods has involved aspects such as bridge building, cart path repair, tree removal, weeds killed, etc. He encourages you to say hello if you see him while out enjoying the course. Jay sums up his assessment of Castlewoods in a simple and hope-filled sentence –  "I see great days ahead."
---