Play at Castlewoods
 Our club is more than just a golf course.
---
Castlewoods boasts one of the finest golf clubs in central Mississippi, but that's far from our only attribute. Just down the road from our main clubhouse is the Castlewoods Country Club Sports and Activity Center.
The 2020 pool season will begin with new, resort-style swimming pool holds over 4,200 square feet of water. The new pool will feature increased space for additional lounge chairs and tabletop seating. We'll have several tanning ledges, a deep end with a diving board, and a large slide. There will also be a 400 square foot splash pad. We provide certified lifeguards during the months that school is not in session to insure a safe environment for your family.
A total remodel of the building in underway and will include a fitness area with 24-hour access. It will feature treadmills, recumbent and spin bikes, ellipticals and strength training equipment. The new patio will provide a centrally located, covered dining and social area. There is also an area for other activities including volleyball and cornhole. We will be adding a kitchen that will offer food and beverage service. We will also have remodeled and additional restrooms, new furniture, enhanced landscaping and resurfaced parking lot.
The Tennis Complex hosts six lighted tennis courts. Mark Elliot, one of the south's most recognized tennis instructors, is Castlewoods' Director of Tennis. Mark oversees private and group lessons for all ages and abilities. Weekly clinics are available for kids to adults, beginner to advanced for both guys and gals. Social mixers hosted throughout the year provide fun for everyone in the family. There is organized league play through the MS Tennis Association for men, women and juniors.
We offer a limited number of memberships to our Sports and Activity Center for $100 per month for use at our Sports and Activity Center. This includes use of the pool, tennis courts and 24-hour fitness center.
Even if you're not a die-hard golfer, there's plenty of good times at Castlewoods.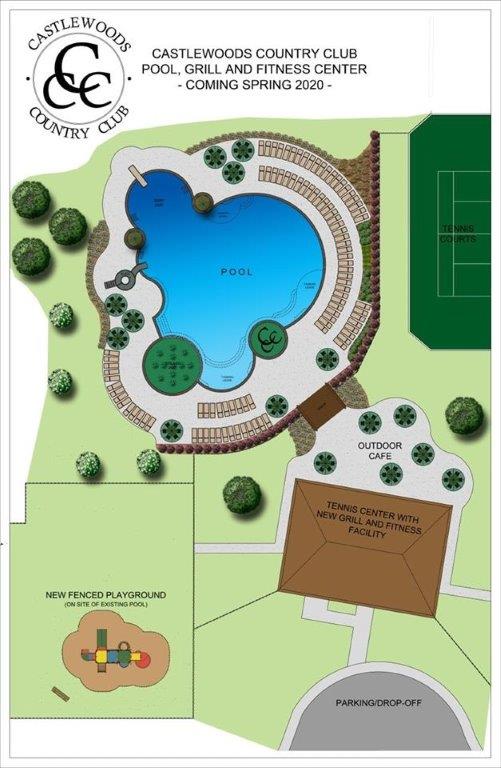 ---